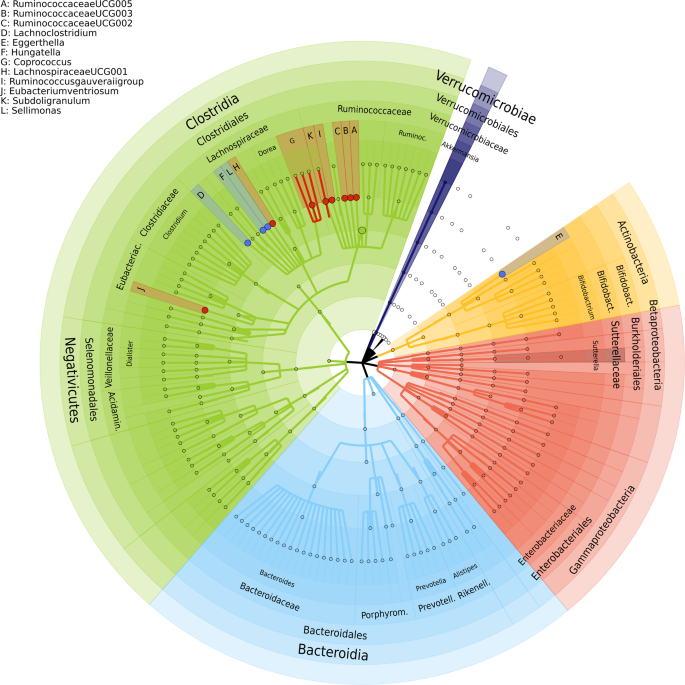 Red dots depict negatively associated genera with depressive symptoms and blue ones depict positively associated genera with depressive symptoms. The outer most layer depicts the phylum level followed by class, order, family and genus levels.
Full size image
Random forest analysis with RS as the training cohort and HELIUS as the testing cohort revealed RuminococcaceaeUCG005 as the most important genus in predicting depressive symptoms (Source Data), showing the highest percentage increase in mean squared error (%incMSE) in out of bag analysis. Other important predictors of depressive symptoms include ChristensenellaceaeR7group, Lachnoclostridium, Eggerthella, Sellimonas, and Hungatella, which overlap with the findings of the linear regression analysis in this study (Source Data). Further, important predictors identified by random forest analysis include Roseburia, Streptococcus, Bacteroides, Anaerotruncus, Dorea, Blautia, Veillonella, Desulfovibrio, Anaerostipes and Bifidobacterium, which replicate associations reported earlier28.
Mendelian Randomization (MR) analysis identifies a causal link between major depression and Eggerthella
Results of MR analysis are provided in the Source Data. With major depression as the exposure, Eggerthella, showed significant MR results under the IVW method (effect = 0.237, p value = 0.027) (Source Data). Tests for heterogeneity and horizontal pleiotropy were negative for Eggerthella (Supplementary Data 1, Supplementary Data 2). Further the effect estimates for Eggerthella was also consistent with the findings of this study, i.e., increase in the abundance of Eggerthella in those with higher depressive symptoms. Interestingly, the Steiger test for directionality suggests that Eggerthella is more likely to be causally associated with MDD (Supplementary Data 3). With microbiome as exposure, significant MR was observed for genus Sellimonas under the IVW method (effect = −0.046, p-value = 5.5*10−04) but effect estimate was inconsistent with the findings of our study (Supplementary Data 3).
Among the 87 depression-associated SNPs7significant association was observed for one SNP rs17641524 with the genus Acidaminococcus after correction for multiple testing (Supplementary Data 4). No significant association was observed for the MDD GRS (Supplementary Data 5).
more...
 
https://www.nature.com/articles/s41467-022-34502-3